My Freedamn! 10
Featuring 1980s New Wave Fashions
Released in August 2012!
This final title: "My Freedamn! 10" has biggest volumes in the My Freedamn! series: 1013 rare vintage items in 353 pages! Featuring 1980s new wave fashions, which hasve been influencing to worldwide young "Skinny" generations nowadays! It includes lots of great New Wave & Hardcore punk street fashions from the late 1970s to mid 1980s, sports fashions by Nike/ Adidas/Puma, early hip hop fashions…and many more! This countless and amazing contents would also become a new "bible" for worldwide vintage fans!! Don't miss it!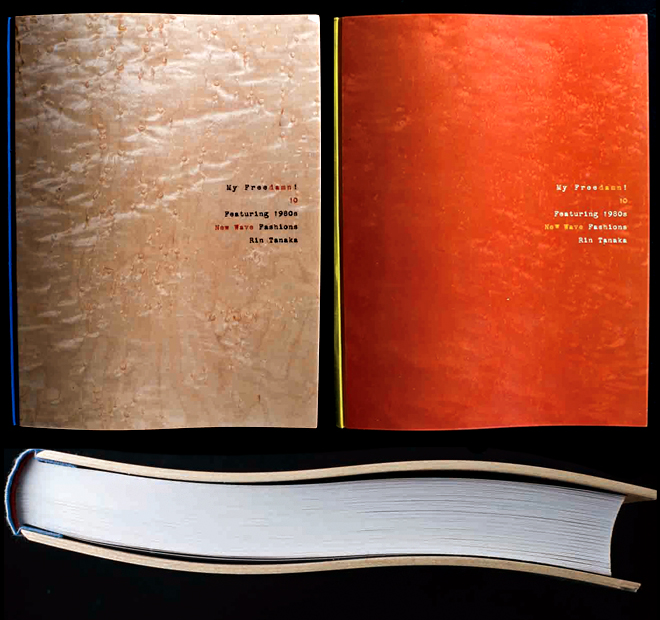 Special Version of My Freedamn! 10
I am pleased to announce that My Freedamn! 10 will have a special 500 limited edition in commemoration of the final title of My Freedamn! series, which started in 2003—–Connecting with its contents "Featuring 1980s New Wave Fashions," I wondered last spring: "Is it possible for me to publish a WAVED plywood-cover book…?!"
It took me several steps to see if it was possible or not. First, I drove to Shizuoka, Japan to visit SAITO WOOD Co., Ltd. They have been a top-notch plywood manufacturer since 1957, but it looked like it would not be easy to complete actual products because front & back plywood covers had to fit perfectly with a waved shape! Another hard job was the binding process by KODAKA BINDING Co. in Tokyo, after the printing process. It actually took many hours for their hand-jobs, too, since no publishers had ordered such a crazy design before now!
What a beautiful special book it was when completed–much more than I expected! Don't you think that it looks like a famous American plywood chair "Eames LCW by Herman Miller," which had its historic first-debut in 1946?!? Yes, please consider this special edition to be a "superb decoration for mid-century fans!"
For the material, the "bird's-eye maple," which is famous for being very premium wood, was selected. Two color variations are available:
1. Aniline Red, which vintage Eames collectors love!
2. Blonde, in which the beautiful birdseye pattern looks much nicer.
This special edition was totally made 500 sets, but actually 100 copies are available only in US and European markets. (400 were already pre-booked by Japanese stores.) Don't miss such this rare opportunity!
Buy it Now!